Groups
Broken Bow Lake Cabin Rentals, LLC accommodates groups of up to 26 people. Please see the Group Offerings below.
Group Offering #1: (Sleeping up to 26)
Our largest 2-Lodge group offering are Deer Hollow Lodge and Wisdom Creek Lodge. These 2 upscale lodges sleep up to 12 and 14, located next to each other in Timber Creek Trails.  Each lodge is ~4,500 sq. ft. 
Group Offering #2: (Cabins – Close to Each Other, East Eagle Mountain Trail)
Another group offering are 6 cabins on the upper end of East Eagle Mountain Trail. Here you will find Heavenly Bear Lodge (3/3, sleeps 10), Songbird Cabin (4/3.5, sleeps 12), Mountain Melody Lodge (4/2.5)sleeps 11), Happy Tree (4/4, Sleeps 8), Bear Country (2/2.5, Sleeps 8), Grey Goose Lodge (4/4, sleeps 12) and Sunshine Vista (2/2, Sleeps 4).  These cabins are within walking distance from each other.
Group Offering #4: 
Another Large Group/Family Cabin is Copper Spa Lodge, which sleeps up to 14. There are several cabins around Copper Spa Lodge, which are in walking distance. These nearby cabins are offered by other companies and we can contact them and make rental arrangements.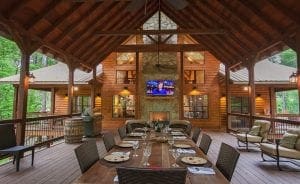 Please contact us at 580-306-6700 for help with Large Family or Group Cabins. Also, you may email us at info@brokenbowlakecabinrentals.com.